29 Mar
A deceptively engaging comedy, HOT TUB TIME MACHINE broaches the theory that changed events in the past can affect your present life. The premise is simple, three middle aged guys take a dip in a hot tub and travel back in time to 1986 to rediscover their past conquests. But  more than just a typical "buddy movie", this film is an enjoyable comedy that features witty quips and great character interactions.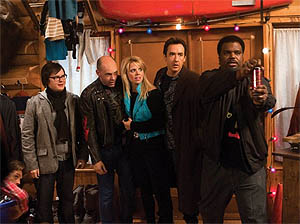 Adam (John Cusack), is a sad sack… his wife has just left him, taking most of his belongings. Nick (Craig Robinson) is a veterinary assistant who cleans up after dogs, and Lou (Rob Corddry) passes his time taking recreational drugs and booze.
They were all best buddies back in 1980′s, but in the years since, they've drifted apart. It's not until Lou is hospitalized that they re-unite and start reminiscing about "the good old days".
Adam suggests that the three return to Kodiak Valley, a ski lodge where the three partied in the '80′s. With high hopes of reliving their Glory Days, the three buddies, with teenager Jacob (Clark Duke) in tow, pack up and head for a guy's weekend at the lodge.
Arriving at the lodge, they find it's a mere shadow of its former self. The building is in a state of disrepair, the "Kodiak Valley" sign hangs askance and cats run freely about the hotel lobby. In a memorable role, Crispin Glover (of George McFly fame) plays a very cranky, one-armed bell hop. He makes many appearances throughout the film, with his Bell Hop character becoming a popular scene stealer.
In their hotel room, the guys find the hot tub of the film's title. Slipping into the warm water to relax, the three friends reminisce about their great weekend back in 1986. Colorful lights appear from beneath the tub's water and a vortex starts. Looking directly at the camera, Nick intones "it must be some kinda hot tub time machine" The four are swept back in time to the same ski lodge, but now it's the colorful 1980′s. 
The transition to the past is quite apparent. The ski lodge is now much newer and populated with hoards of happy, fun loving '80′s teens. We're bombarded with sights and images that define 1986;  Walkman's, polo shirts, poster colored clothing, leg warmers, Jheri curls, and President Reagan on TV. Glancing in the mirror, the guys see themselves as their young 1980's selves, and everyone who meets them does too! Seeking some sort of proof, Nick asks a passerby "what color's Michael Jackson?" when she answers "black"….he screams (apparently this is a sure sign that it's 1986!) 
In a strange cameo, Chevy Chase appears as the Hot Tub Repairman. When he warns the guys about the dangers of tampering with the time-space continuum, Jacob quickly bemoans "We're gonna do something to make Hitler president"
HOT TUB TIME MACHINE is one of those fun, up-all-night movies, where none of the characters seem to sleep, and everyone has unlimited energy. Aimed mostly at the Forty-Something crowd, the film's humor contains enough bawdy comments and raucous moments that most teenagers will be entertained too. It's a fun comedy with funny references to movies, lots of quick snappy dialog and chuckles throughout. Recommended
Running Time – 100m.
Rated R for strong crude & sexual content, nudity, drug use and pervasive language.
Cast & Credits
Director: Steve Pink
John Cusack … Adam
Clark Duke … Jacob
Craig Robinson … Nick
Rob Corddry … Lou
Crispin Glover … Phil
Chevy Chase … Repair Man