The VCR that you use for video transfers can range in price about $90 to over $500. Your investment often depends on the amount of tapes you have to transfer and what enhancements you want to add to the copies. Obviously, if you're transferring less tapes, you might be willing to accept a savings in cost that a lower priced machine would provide.
Higher end VCRs, by comparison, have expanded features and offer greater reliability. Most provide S-Video outputs which gives superior video quality when compared to VCRs with composite (RCA) video outputs. S-Video separates the color components, giving you a slightly crisper video signal.
Professional VCRs usually have a built-in TBC (time base corrector), this helps stabilize and purify the images. Old EP/SLP speed tapes that wiggle and shake will be much improved on a machine with a built-in time base corrector.
Other add-ons, such as an external time base corrector, or a video processor are not covered in this discussion. Here we're talking just about the best VCR, pricewise, versus the amount of tapes you need to transfer to digital.
Because choosing a VCR is often a cost-related issue, I've separated my VCR recommendations based on the amount of tapes you plan on transferring. Obviously, if you're willing to spend extra money on a VCR just to transfer a few tapes, that's great, and it's certainly your prerogative to do so.
Herewith are some basic suggestions:
1 to 10 tapes - this isn't a whole lot of tapes to transfer and buying video equipment to transfer this amount of tapes probably isn't cost effective. Although it's entirely possible to use your existing VCR to transfer these few tapes to digital, you're probably better served paying to have you tapes professionally transferred. Many companies can transfer your tapes using top-quality VCRs, time base correctors and video processors. Tape colors are corrected, stabilized and improved, You'll receive the quality that $1000 plus equipment would provide for less than $25 a tape! Alternatively you can make your own copies with acceptable results if you purchase one of our Value Priced VCRs.
11 to 50 tapes - if you're transferring under 50 tapes, you can save some money by using a Semi-Professional VCR that has S-Video outputs and Hi-Fi sound. These range in price from $90 to $190, depending on the features. VCRs with S-Video outputs often feature auto-video calibrations along with basic picture controls that allows you to sharpen the VHS image. S-VHS video output is important, since it gives slightly sharper video compared to regular composite video connectors (RCA).
51 to 100 tapes - with this amount of tapes, you should opt for a VCR that has a built-in TBC (time base corrector) There's several JVC models that offer this option, as well as enhancements that allow for sharpening of softening the image. Most of the JVC TBC machines are in the $300-$350 price range, and will serve you well.
101 plus tapes - at this point you're probably doing semi-professional work, either for yourself or for family and friends. You'll need a VCR that is much more robust, has professional features and has a tough, heavy duty tape transport mechanism. I highly recommend the Panasonic AG-1980 for EP/SLP speed transfers. It's the best machine I've seen that will playback and improve just about any EP/SLP speed tape and it also does a good job with SP playback. The older Panasonic AG-1970 is the Little Sister to the AG1980, it gives a slightly sharper image on SP playback, although it's time base corrector isn't as robust as the AG-1980. The AG-1970's EP/SLP images are good, but nowhere reaching the quality of the AG-1980.
If I were stranded alone on a desert island, with thousands of tapes to transfer and only one machine to choose from, I'd certainly bring along a Panasonic AG-1980. A refurbished AG-1980 is a pleasure to behold, the quality it adds to EP/SLP tape playback is simply outstanding! It's tape transport is heavy duty, and once properly aligned and lubricated, a refurbished AG1980 is the ideal VCR to use for transferring your video tapes to digital.
~ Tom Grant www.tgrantphoto.com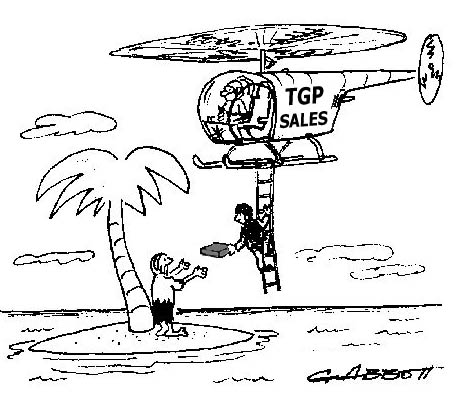 "VCR Delivery"
Note: The above content is copyright TGPSales & TGrant Photo. Copying or use on another website is prohibited